Voltage converter two-way 4-bit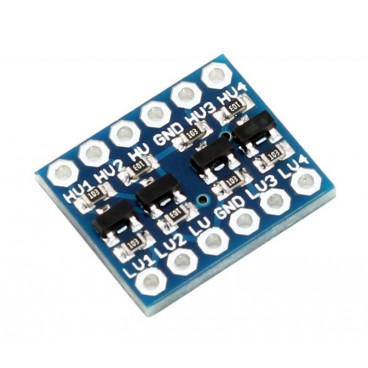 Voltage converter two-way 4-bit
MR002-005.1
data-lang="en">
This converter is very useful to adapt signals 3, 3V and 5V, and vice versa.
Estimation de livraison entre le 20/08/2022 et le 23/08/2022
Colissimo Domicile - sans signature

A partir de: 5,45 €
Customers who bought this product also bought:
More info
Description
This signal converter is ideal to lower a signal 5V to 3, 3v or enhance a sinal 3, 3V 5V. The converter can also operate in 2, 8V or 1, 8V.
The converter has pellets solder spaced at no 2, 54mm, ideal for weld fix it on a breadbord or a plate to hole of prototyping.
The use of this converter module is very simple, just the aimenter with the high voltage (5V for example) on the HV pine, with voltage based on the LV pine (for example 3, 3V) and the mass on the GND pin.
The card is sold with two male connectors to the steps of 2.54 mm not welded.
Features
Power: 1, 8V to 5V
Dimensions:

15.5 x 13 mm


Number of channels: 4
Weight: 0.7 g