TV-B-Gone Kit by Adafruit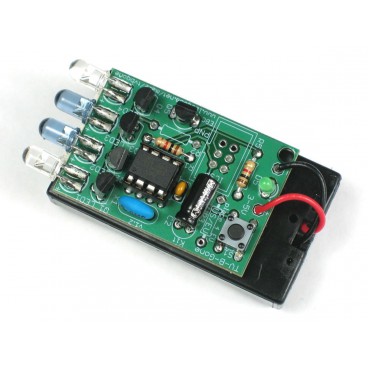 Customers who bought this product also bought:
Sliding scale pricing
| Product | From (qty) | Price |
| --- | --- | --- |
| TV-B-Gone Kit by Adafruit | 10 | 23,21 € |
More info
Description
Tired of being surrounded by television screens at each location where you spend?
You want to stop the influence of advertising on the screens, or to make energy savings in stores?
The TV-B-Gone is the kit need you! Simple has make and even more fun to use, this kit will allow you to turn off with a simple click all TVs up to 150 m thanks to its high power infrared.
The kit handles more than 230 code of TV compatible with North America, Asia and Europe whose brands: Acer, Admiral, Aiko, also national Anam, AOC, Apex, Baur, Bell & Howell, Brillian, Bush, candle, citizen, Contec, Cony, Crown, Curtis Mathes, Daiwoo, Dimensia, Electrograph, Electrohome, Emerson, Fisher, Fujitsu, Funai, Gateway, GE, Goldstar, Grundig, Grunpy, Hisense, Hitachi, Infinity, JBL, JC Penney , JVC, LG, Logik, Loewe, LXI, Majestic, Magnavox, Marantz, Maxent, Memorex, Mitsubishi, MGA, Montgomery Ward, Motorola, MTC, NEC, Neckermann, NetTV, Nikko, NTC, Otto Versand, Palladium, Panasonic, Philco, Philips, Pioneer, Portland, Proscan, Proton, Pulsar, Pye, Quasar, how, Radio Shack, realistic, RCA, Samsung, Sampo, Sansui, Sanyo, Scott, Sears, SEI, Sharp, Signature, Simpson, Sinudyne, Sonolor, Sony, Accusutomed, INA, Tatung, Teknika, Thompson, Toshiba, Universum, Viewsonic, neighborhoods White Westinghouse, Zenith.
The TV-B-Gone is sold as a kit, it requires to solder the components.
Version 1.2.
Composition
: Battery 2 X AA (not included)

Released: 2 beams close infraraouge and two wide infrared beams at base of IR LEDS.

Dimensions (map only): 44.5 mm x 30 mm x 1.6 mm (1.7in x 1.2in x 0.06in)

Dimensions (mounted): 63mm x 32mm x 29mm (2.5 inch x 1.26in x 1.15in)

Weight (without batteries): 15.25 g
Documentation
Documentation Adafruit for edit: http://learn.adafruit.com/TV-b-gone-Kit