BBC micro:bit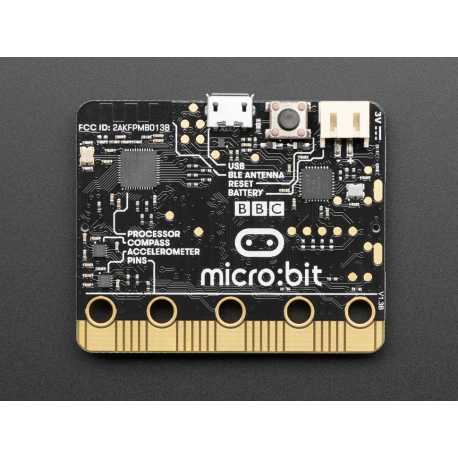 Customers who bought this product also bought:
More info
The British invasion is here! No, not music....microcontrollers! New is the newest and easiest way to learn programming and electronics - the BBC's micro:bit.
Designed specifically for children and beginners, the micro:bit is a handheld computer that you can code, customize and control to bring your digital ideas, games and applications to life. It's a small codable device that is a non-intimidating introduction to programming and manufacturing - turn it on, program it to do something fun - wear it, customize it, develop new ideas.
The micro:bit platform combines the'bit, a pocket coding device with several sensors and LEDs, with an impressive website full of coding and project examples. Start with the video tutorials, then check out the ideas page to get creative. From creating your own games to taking selfies, the possibilities are endless!
This is an individual micro:bit without batteries or cables.
The micro:bit is based on the nRF51822 microcontroller, which has integrated the Bluetooth LE radio. There are two programmable buttons that can be used to control games, send a radio message, activate the display, etc. The micro:bit can detect the movement (using an accelerometer) and tell you in which direction you are going (using a magnetometer/compass with a chip). On the lower part is an extension port, with 5 crocodile clip pads and additional board edge contacts for a total of 19 I/O pins. Each of these sensors, inputs and outputs is fully programmable using easy-to-use software that can be accessed from a PC, laptop, tablet or mobile phone. You can use MakeCode/PXT or micro Python blocks to start your programming adventure. Advanced programmers can switch to mbed for very powerful C or C++ programming.
If you are new to coding and hardware, then the micro:bit is an excellent starting point. It is incredibly easy to use and a perfect platform to help you jump on other microcontrollers and computers such as Circuit Playground, Arduino, Feather, or even Raspberry Pi.
For more information, visit http://microbit.org/
TECHNICAL DETAILS

To obtain a request reviewed by micro:bit support engineers: http://support.microbit.org/
For technical information and to try to find the answer: http://tech.microbit.org/
To access a dynamic community of enthusiasts: http://tech.microbit.org/get-involved/where-to-find/
Product dimensions: 52.0 mm x 42.1 mm x 42.1 mm x 11.0 mm / 2.0 in x 1.7 in x 0.4 in
Product weight: 9.0g / 0.3oz