DIY Ornament Kit - 7cm Diameter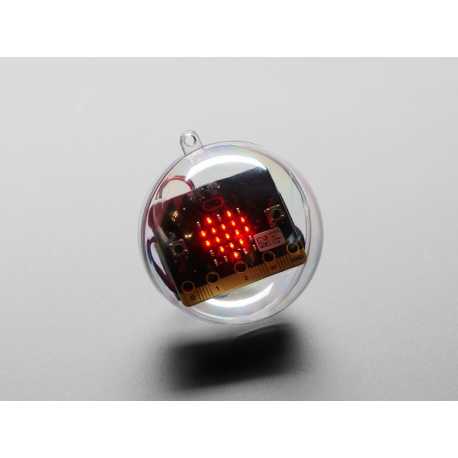 DIY Ornament Kit - 7cm Diameter
ADA 4035
data-lang="en">
A transparent DIY ornamental sphere 7cm in diameter.
More info
Have you supported classical, uninspiring and low-tech tree ornaments for too long? This season, why not decorate the corridors with your DIY ornaments?

This DIY kit is just the right size (7 cm in diameter) for a micro:bit, a 2xAAA battery pack, and your ornament! The down balls from your local hobby shop and other materials will diffuse these LEDs in a pleasant way.

Of course, you can very easily see the LED grid on your bit and the motion and temperature sensors on board work very well. To touch the capacitive touch, you can use conductive tape and attach it to the inside surface to create a capacitive touchpad. Since you can't easily press the buttons, try using the accelerometer to detect when the ball is shaken and make it do things!
Accessories
A small case with transparent lid for your projects.

A transparent 6cm diameter DIY ornamental sphere ideal for CircuitPlaygroung.