Continuous motor driver - stepper - L9110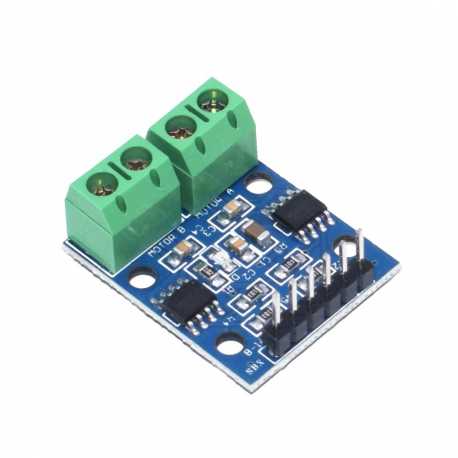 Continuous motor driver - stepper - L9110
SGK-DRV-001
data-lang="en">
Customers who bought this product also bought:
More info
The two-channel motor driver module is a compact board that can be used to drive a small robot. This tiny module is equipped with two independent L9110 motor control chips that can each drive up to 800mA of direct current. 2.5V to 12V allowing this module to be used with 3.3V and 5V microcontrollers.

A PWM pulse width modulation signal is used to control the speed of a motor and a digital output is used to change its direction. This module can also be used to drive a single 5-wire two-phase stepper motor.

Specifications :

Operating voltage: DC 2.5V - 12V
Maximum output current: 800 mA (continuous) / channel
Number of channels: 2
Card dimensions: 30 mm x 23 mm

Translated with www.DeepL.com/Translator
Accessories
A stepper motor NEMA17 format with 200 not by revolution.

A driver of motor to rotate 2 Motors continuous or a stepper motor .

An engine to cournat continuous size 130 with a power supply between 4, 5V and 9V DC.