TXB0104 Bi-Directional Level Shifter - TXB0104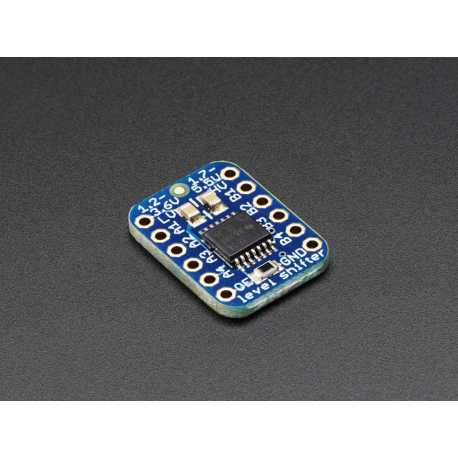 Customers who bought this product also bought:
More info
Description
Since the Arduino (and the Basic Stamp) are 5V cards, and most of the sensors, displays, flash cards and modern modes are only 3.3V, many manufacturers find that they need to make a level/conversion change to protect the 3.3V camera from 5V.

Although resistances can be used to make a divider, for high-speed transfers, resistances can add a lot of bias and cause damage that is difficult to debug. For this reason, we like to use the 4050/74LVX245 series and similar logic to make a good level change. The only problem is that they are good in only one direction, which can be a problem for some bidiectional interfaces and also makes wiring a bit cumbersome.

This is where this nice chip, the bidirectional TXB0104 level converter, comes in! This chip performs a bidirectional level e adaptation between any voltage and any voltage and automatically detects the direction. The only thing that doesn't work well with this chip is the i2c (because it uses powerful pullups that confuse the auto-direction sensor) or control lines with a lot of capacity. If you need to use pullups, you can but they should be at least 50K ohm - those internal to AVR/Arduino are about 100K ohm, so they're OK! It's a little more luxurious than a 74LVX245, but if you don't want to worry about directional spindles, it's a bargain!

Since this chip is a special bidirectional level adapter, it does not have powerful output pins that can drive LEDs or long cables, it is designed to fit easily on a breadboard between two logic chips! If you don't need instant bi-directional support, we suggest the 74LVX245 as below which has a stronger output.

This breakout card has a 0.1uF capacitor on both sides and a 10K resistor on the output activation pin so that you can use it right out of the box! A non-welded male connector is also included.
Features
Dimensions: 18mm x 13mm x 2mm / .7" x .5" x .08"
Accessories
A level converter 8-bit to adapt signals between two assemblies using two different logics.

A level Converter 4 bits to fit the I2C signals between two assemblies using two different logics.

An ideal circuit for adapting 5v logic to 3.3V logic