Oscillator 16 MHz ceramic resonator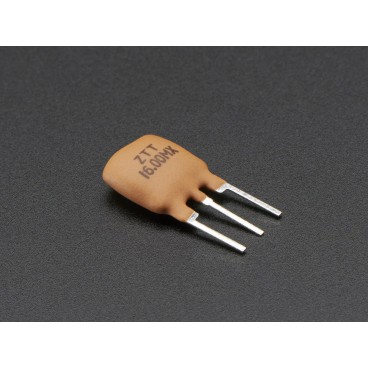 Oscillator 16 MHz ceramic resonator
ADA 1873
data-lang="en">
The component kit ideal to operate an ATMEGA328 in standalone.
Estimation de livraison entre le 28/09/2020 et le 29/09/2020
La Poste - So Colissimo

A partir de: 4,80 €
Customers who bought this product also bought:
Sliding scale pricing
| Product | From (qty) | Price |
| --- | --- | --- |
| Oscillator 16 MHz ceramic resonator | 10 | 1,03 € |
More info
Description
An oscillator ceramic to power your microcontroller in 16 MHz horoge. This component is easy to use and compatible of the breadboards with a step at 2.54 mm. This component is like a quartz, but with integrated capacitors of stability, it has an accuracy of 0.5%.
To use it, nothing more simple, connect external pines in the pines In XTAL and XTAL OUT of your micro-controller and the Central Pine has the ground GND.