Accelerometer 3 axes 3G - ADXL335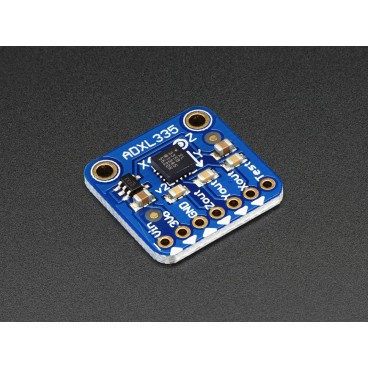 Customers who bought this product also bought:
More info
Description
This accelerometer 3 axes has ±3G for a 3V3 interest regulator, which allows to run 5V, ideal to work with a microcontroller as the arduino. The ADXL335 chip-based, this module will provide three representative analog voltages of 3 axes X, Y and Z.
The ADLX335 circuit is the last designed by Analog Device, known for their quality in the MEMS circuit. The VCC pin accepts up to 5V for controlled a 3V3 supply to power the circuit ADLX335.
Each analog output delivers a signal between 0V and 3V3 representtaive of acceleration-3G to + 3 G. To simplify - 3G corresponds to a voltage of 0V, + 3G at a voltage 3, 3V and so 0G at half the supply range is 1, 65V.
This module is sold assembled and tested with a header 1 X 8 connector not welded.
The capacitors for filters on the axes XYZ are 0, 1µF for a bandwidth to 50 Hz.
Features
Length: 19mm / 0.75in

width: 19mm / 0.75in

Height: 3.14mm/0.12in

Weight: 1.27g/0.04oz