Current sensor linear hall effect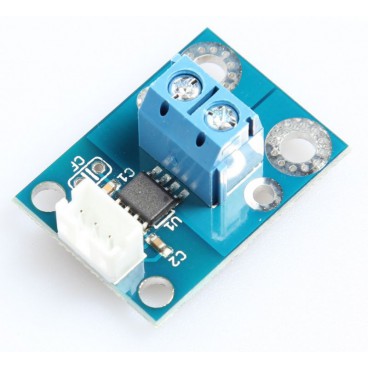 Customers who bought this product also bought:
More info
Description
This current sensor is equipped with circuit Allegro ACS714ELCTR - 05b - T who is a current sensor linear hall effect. It offers a low resistance (1.2 m) for the capture of the current and has an electrical insulation up to 2.1kV RMS.
The sensor works on 5V and it has an analog output with a sensitivity of 185mV/A centered at 2.5V with a max of ±1.5% error and bandwidth at 80kHz.
The etenduie of the sensor measurement is of-5 A to + 5 A, but it can take 5 times these values.
A screen print on the top indicates the positive direction of the current.
The circuit has a filter with an internal resistance of 1.7 k? and a 1nF capacitor that produces a filter passes low RC at cut-off frequency 93.6kHz.
It is possible to improve this filter by adding a capacitor in parallel to that of 1nF CF location.
To know, you can pass through the Terminal screw or use both pads to screw lugs.
Features
Alimenattion rated voltage: 5V
Nominal operating current: 10mA (13 my max)
Measuring range: from - 5V to + 5V
Internal resistance: 1.2 m?
Sensitivity: 185mV/A
Measurement error: ±1.5%
Interface: analog
Operating temperature:-40 ° C to + 85 ° C
Size: 27.9 x 20.3 mm
Weight: 3.5 g
Accessories
The Arduino UNO card is the best seller from Arduino. Simple, effective and cheap.

A cable adapter JST PH 3 points