Infrared receiver LED - Grove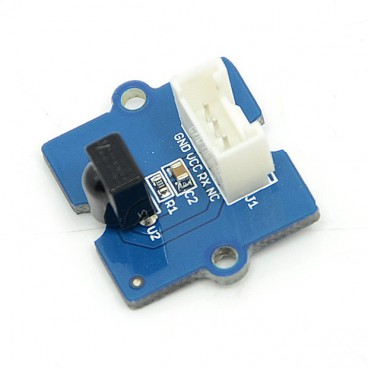 Infrared receiver LED - Grove
101020016
data-lang="en">
This module at the grove format allows to easily receive infrared.
Estimation de livraison entre le 04/10/2022 et le 06/10/2022
Colissimo Domicile - sans signature

A partir de: 5,45 €
Customers who bought this product also bought:
More info
Description
The Grove receiver LED infrared module? allows to receive infrared signals with a 38 kHz carrier. This makes it possible to interact with another infrared receiver LED module up to a distance of 10 m. It is also possible to retrieve the information of an infrared remote control to 38 kHz.
The grove standard cable is provided with this module.?
Features
Compatible interface Grove
Power supply: 5V
Dimension: 20mm x 20mm
Carrier: 38 kHz
Range: 10 m
Documentation
Documentation of the infrared receiver LED module? : Grove - Infrared Receiver