Mini Vise Panavise Jr. - PV-201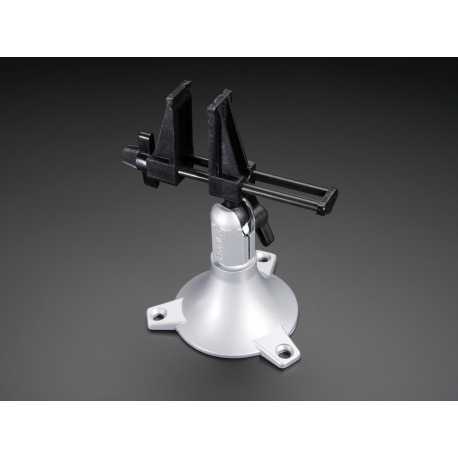 Mini Vise Panavise Jr. - PV-201
ADA 151
data-lang="en">
A practical mini vice for small printed circuits
Customers who bought this product also bought:
More info
The best mini-vise for working on small printed circuits (2,875" or less in size)! The jaws are made of durable plastic that does not damage the printed circuit board and does not bother you if you accidentally touch it with the soldering iron. Made in the USA.

The simple and easy-to-use button controls the head's movement in 3 planes: 210° tilt, 360° rotation and 360° rotation.
Fine / precise adjustment knob to control jaw pressure for delicate work.
The grooved jaws are excellent for holding small objects and are made of reinforced thermal composite plastic. Continuous heat tolerance up to 350°F (177°C), intermittent heat up to 450°F (204°C)
The jaws are 2" (50.8 mm) high, 1" (25.4 mm wide and are open to 2.875" (73 mm).
Neoprene jaws are available for extremely delicate items.
Features of 4.3125" (109.5mm) milled bolt circle base for 3 1/4 in. (6.3 mm) flat head (not included); compatible with all PanaVise® bases
Height: 6.75" (173mm), Weight: 1.2 lbs. (0.6kg)

Translated with www.DeepL.com/Translator
Accessories
A third hand that will always be there to help you in your DIY assemblies.

A quality 70W with adjustable temperature of 50 ° C soldering station has 480 ° C.