2-Pin Wire Joints (3-pack)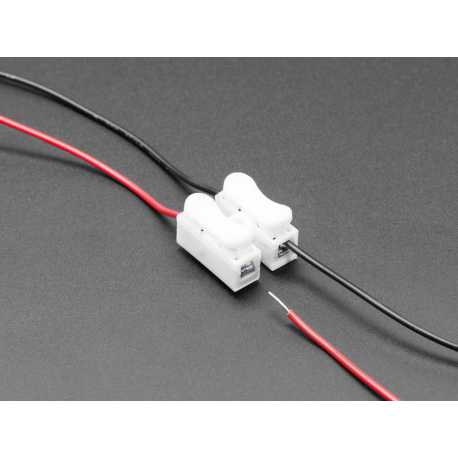 2-Pin Wire Joints (3-pack)
ADA 3786
data-lang="en">
A 2 point quick connect terminal block.
Customers who bought this product also bought:
More info
This is the easiest way to connect two wires if you want to quickly make a wiring prototype, avoid soldering with this quick 2 pin terminal block!

These connectors are great when your LED strip light project requires interfacing bare wires, or maybe you want to extend some motor wires. Or really anything.

Simply open the openings by pressing the curved arm, insert the wire into the mounting hole and release the arm to ensure a tight and firm fit. These wire seals are large enough for a range of wire gauge - we have tried from 30 to 16 AWG. A strong core and a stranded core will work with it.

Come in a pack of 3, like most magical things!
Accessories
A set of 5 Double Terminal soldering for circuit or plate with holes.

A 40 pins 2X20 long connector with 2.54mm pitch ideal for the GPIO of the Raspberry PI