Anodized Aluminum Metal Chasis for a Mini Robot Rover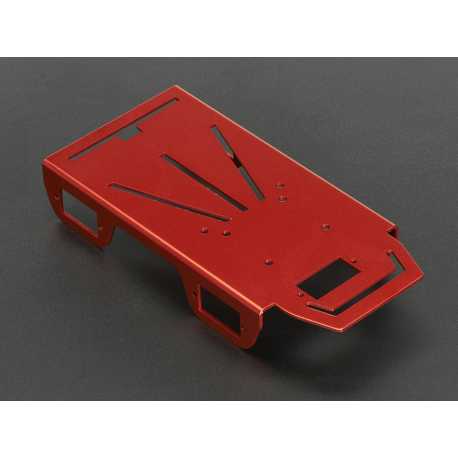 Anodized Aluminum Metal Chasis for a Mini Robot Rover
ADA 2943
data-lang="en">
An anodized aluminum mini rover robot chassis base.
More info
This Anodized Aluminum Chasis for a Mini Rover robot is perfect for building a very sturdy (and quite beautiful!) small rover robot.

It is made of aluminium, so it is light and strong.
Anodizing is beautiful
Can be used to build a 2 or 4 wheel robot.
Tons of mounting holes and slots!
Easy to modify because you can drill and cut aluminum.
Will not crack or break if it falls down stairs (this happens).

Remember, it's only the metal frame chassis! Motors, wheels, engine driver, microcontroller, etc. are not included! It is specially designed to use either our DC micro-servomotor or our DC motor in the micro-servomotor body. You'll have to take two or four. You will also want 2 or 4 wheels.

If you have a two-wheeler, also grasp a swivel support wheel. Finally, you can add a nice little topper if you want. Then any microcontroller and motor/servo driver can be used to build your robot.

Dimensions: 156mm x 74mm x 25mm / 6.1" x 2.9" x 0.98" x 0.98
Weight: 47.3g
Accessories
A pivoting support wheel at 360 ° for your robotic projects.

A micro Servo Motor has continuous rotation to move your little robot.

A metal plate to add a floor to your robot.