Stereo 20W Class D Audio Amplifier - MAX9744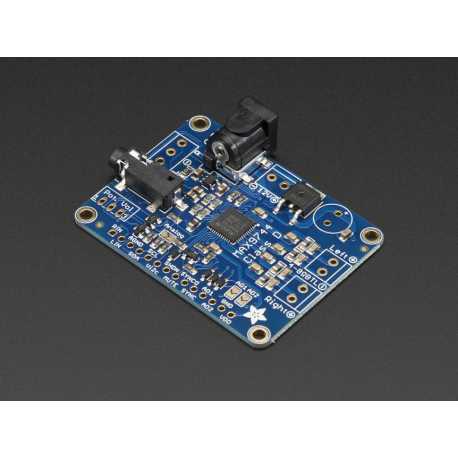 Customers who bought this product also bought:
More info
Description
Increase the volume with this 20W stereo amplifier! This small thin board has a class D amplifier on board that can drive 2 channels of 4-8 ohm impedance at 20W each. Power it with 5-12VDC using the built-in DC power socket and plug the stereo line input into the 3.5mm stereo jack. Because it is class D, its operation is cold, no heat sink is required and it is extremely efficient - up to 93% efficiency makes it ideal for portable or battery-powered devices.

We like the MAX9744 amplifier at the heart of this board because it is very easy to use, but it also has an analog and digital volume control function. Use a single 1Kohm pot (we include one) to adjust the analog volume. Or connect it to your favorite microcontroller and send I2C controls to adjust 64 volume amplification levels.

Some good features on the MAX9744:

Supply voltage from 4.5V-14V DC
Up to 93% efficiency (88-93% on average)
20mA quiescent current (or switched off for 1uA quiescent current)
Up to 29.5dB gain max.
Use a coupled DC or AC line level input, up to 3Vpp
Spread spectrum modulation without filter decreases
RF emissions radiated from speaker cables
20W stereo output (4ohm, VDD = 12V, THD+N = 10%)
Low 0.04% THD+N
Built-in click and plop removal
Protection against short circuits and thermal overloads

We have integrated this nice chip with reverse polarity protection, plugs and terminal blocks, an i2c level adapter and a soldering slot for volume potentiometer.

Each order is accompanied by a MAX9744 board with all surface mounting parts assembled and tested. We also include 3 2-pin terminals and 1 3-pin terminal block, a 470uF power filter capacitor and a 1Kohm compensating pot. To use this board, some soldering is needed to fix the terminals and other components, but it's easy enough and should take less than 15 minutes.
Features
Length: 54mm / 2.1".
Width: 41 mm / 1.6 in.
Height: 2mm /. 08".
Weight: 11g