Sensor barrier infrared 3mm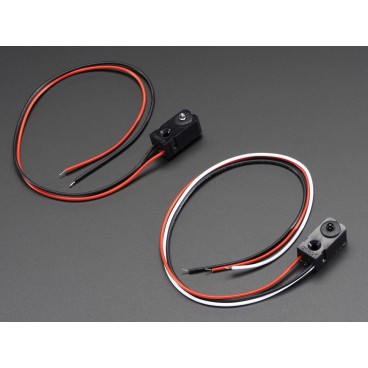 Customers who bought this product also bought:
More info
Description
The infrared barrier sensors are a good way to detect an obstacle or a movement. A first sensor will persuader of the infra-red invisible to the naked eye, and a second will receive them. If an object cut the beam, it will be possible to detect it.
This version has led IR 3 mm allowing both modules up to 25cm spacing. You can feed them 3, 3V or 5V, but we recommend 5V for best results. The recpteur has an Open Collector Transistor output, this means that it will put a d epull-up resistance to be able to read the value, a 10K resistor should do the trick.
Features
"Detection distance: about 25 cm / 10"

Voltage: 3.3 - 5.5VDC

L: consumption 10mA @ 3, 3V, 5V 20mA @.

Output current max of the receiver: 100mA to the mass

Transmitter / receiver LED Angle: 10 °

Response time: 2 ms

"Dimensions: 20mm x 10mm x 8mm / 0.8"x 0.4"x 0.3"

"Cable length: 234mm / 9.2"

Weight (of each): ~ 3g
Accessories
The Arduino UNO card is the best seller from Arduino. Simple, effective and cheap.

A breadboard of medium size perfect for your temporary electronic assemblies.