Drawdio kit - Adafruit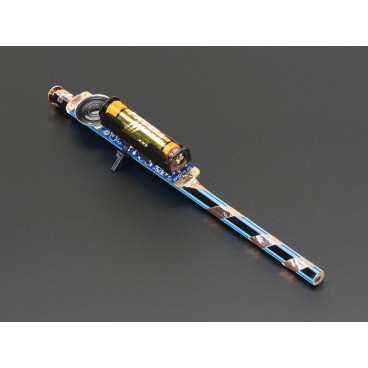 Customers who bought this product also bought:
More info
Description
Drawdio is an electronic pencil that lets play music while you draw. It is an ideal educational kit for beginners: easy to weld with an immediate result. For simplicity, it is a musical synthesizer that uses the conductivity of graphite to produce frequency modulated sounds. The result is a fun toy that lets you draw musical instruments functional on a single sheet of paper.
The Drawdio is sold as a kit, it requires to solder the components.
Version 1.1.
Features
Power supply: 1 X battery AAA (not included) same

Requires a pencil, a 2B is provided, it is tender, better!

Fun at any age.

Easy Assembly and welding in less than an hour even for beginners.

PCB dimension: 82mm x 14mm x 0.9 mm (3.2in x 0.5in x0.03in)
Dimensions assembled (without battery): 82mm x 14mm x 16mm (3.2in x 0.5in x0.6in)
Documentation
Documentation: Drawdio: A pencil that lets you draw with music!