Foot Pedal Potentiometer - Sewing Machine Speed Controller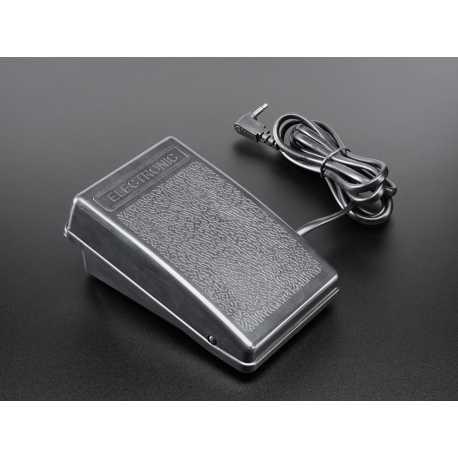 Foot Pedal Potentiometer - Sewing Machine Speed Controller
ADA 3739
data-lang="en">
A potentiometer on foot to regulate a speed without the hands!
Customers who bought this product also bought:
More info
We have a foot switch but some people have contacted us to ask if there is a way to adapt it to perform a variable speed control, such as a potentiometer. And there he is! This is a foot pedal potentiometer (or sewing machine speed controller).

This is a very nice quality, very robust, with a 3.5mm audio connector at the end, so it's incredibly easy to integrate into your project. You can use a 3.5 mm terminal adapter.

When there is no pressure on the pedal, you will have about 20 KΩ. Pressing fully will give you about 1 KΩ, and the change in resistance is linear with movement. Connect one side to ground, then the other side to a 10K resistance pull-up to the logic voltage of your microcontroller. Then read the divided analogue voltage, as you would do with a photocell or other resistive sensor.
Characteristics
Power cord length: ~5ft
Pedal body: 135 x 85 x 56mm
Resistance: approx. 1KΩ - 20KΩ
Rated voltage: 15V DC
Rated current : 3mA max.
Product dimensions 135.0mm x 85.0mm x 54.0mm / 5.3" x 3.3" x 3.3" x 2.1".
Product Weight: 188.0g / 6.6oz