Raspberry Pi 3 - Model B+ - 1.4GHz Cortex-A53 with 1GB RAM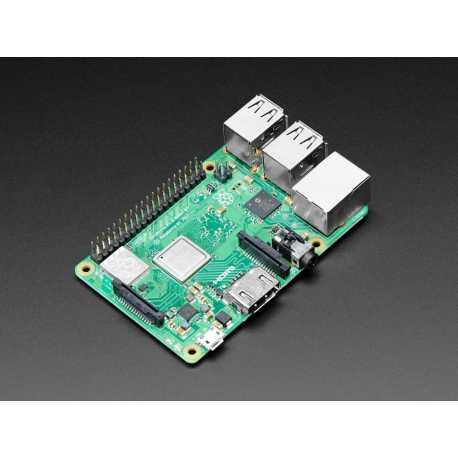 Customers who bought this product also bought:
More info
The Raspberry Pi 3 Model B is the most popular Raspberry Pi computer, and the Pi Foundation knows you can always do in one good thing! And what could improve the Pi 3? How about a faster 5 GHz WiFi processor, and an updated Ethernet chip with PoE capability? Good guess - that's exactly what they did!

The Raspberry Pi 3 Model B+ is the latest addition to the Raspberry Pi 3 family, featuring a 64-bit 1.4 GHz quad core processor with integrated metal heatsink, dual-band 2.4 GHz and 5 GHz wireless LAN, faster Ethernet (300 mbps) and PoE functionality via a separate PoE HAT PoE.

The Raspberry Pi 3 model B+ retains the same mechanical footprint as the Raspberry Pi 2 model B and the Raspberry Pi 3 model B. The manufactured Adafruit cases are still suitable, but some others are not, especially those that depend on the location of the components or that are equipped with a heatsink.

You can always use all your favorite Raspbian or PIXEL software with this update - just make sure to upgrade your Raspbian operating system so that the firmware can support new chips.

Note: Our 5V 2.5 A power supply works perfectly with the Pi 3 Model B+.

The dual band wireless LAN has a modular compliance certification, it's the metal box in the corner of the Pi, with the logo stamped on it. This allows the card to be designed into end products with significantly reduced wireless LAN compliance testing, which improves both cost and time to market.


Characteristic :
CPU : Broadcom BCM2837B0, Cortex-A53, 64-bit, quad-core SoC @ 1.4GHz
Memory : 1GB LPDDR2 SDRAM
Network : 2.4GHz/5GHz IEEE 802.11 b/g/n/ac Wireless LAN (WLAN) / Bluetooth Low Energy v4.2 (BLE) / Gigabit Ethernet over USB 2.0 (maximum throughput 300Mbps)
Dimension : 8.6cm x 5.4cm x 1.7cm
Connecticut :
Power : Micro-USB 5V 2,5A recommandée
Ethernet : RJ45
USB : 4 ports
Video in HDMI et RCA
Audio on Jack 3,5mm or HDMI
micro SD card
GPIO 40 pin