Bare Conductive Touch Board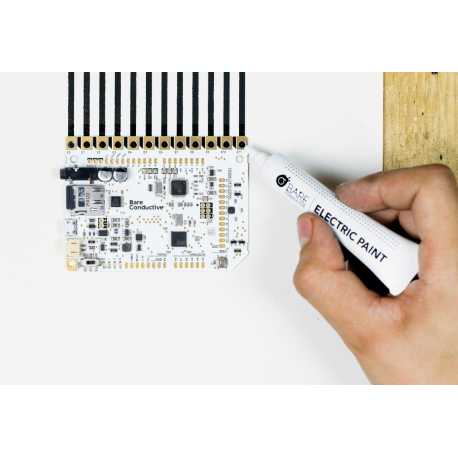 Customers who bought this product also bought:
More info
Description
Turn your paintings into tactile sensors. What? What? Yes! Yes! Or! And these are just a few of the amazing things this Bare Conducitve Touch Board can do. This card is designed to be integrated into the Bare Conductivity paint, although you can use many other conductive tools (it has 12 electrodes that can be connected to any conductive material). But if you can paint yours, why would you use anything else?

The pre-programmed Touch Board is Arduino-at-Heart, so your shields and Arduino code will work as if it were an Arduino Leonardo. It can also play music on an SD card - you can even paint a piano and turn your Touch Board into a synthesizer! Also enjoy its LiPo battery charger, you can make all your projects mobile.

Delivered with a 128MB card and the Touch Board is sold assembled and tested. You will need a way to amplify the audio, using powered speakers or simply headphones. The Lipoly battery is not included, any battery of 500mAh or more will work perfectly if you want to make it portable. A microUSB cable is also handy for recharging/reprogramming the Touchboard, not included but you can use any micro USB cable compatible with the data you have in your home. We also recommend adding conductive paint or other conductive materials to play with.
Features
12 touch electrodes, 8 of which can be configured as additional digital inputs or outputs with PWM capability
20 Arduino compatible digital I/O pins (3 for Touch IC and 5 for MP3 IC - can be disabled)
7 Arduino compatible PWM channels
Dimensions: 84mm x 62mm x 10mm / 3.3" x 2.4" x. 4".
For technical support on Bare Conductive products, contact info@bareconductive.com
Documentation