Expansion Board 2.0 for cards Pycom IOT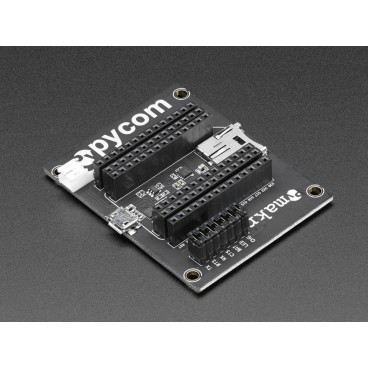 More info
Description
This expansion board Pycom is compatible with the loyal and the 2.0 WiPy and brings additional functionality to your project IoT. Simply insert the WiPy or loyal in the headers, and enjoy all the extra features.
Features:
USB and LiPo battery power
FT234XD converter USB to serial
(BQ24040) LiPo battery charger, with options for 2 different (100mA and 450mA) load currents.
TPS2115A with protection against reverse voltage
MicroSD card slot
2 heads female to plug easily the WiPy 2.0, the SiPy or the loyal.

This expansion card is not compatible with WiPy 1.0

JST style battery connector
Seeing supply and charge status led
1 user and 1 switch user LED
The battery via the WiPy ADC voltage monitoring
Many riders to enable / disable features
Size: 65 x 50 x 12 mm
Note that does not include the WiPy and the loyal - is that of the expansion card.
Features
Size: 65.0 mm x 50.0 mm x 12.0 mm / 2.6 "x 2.0" x 0.5 "


Weight t: 18.1 g / 0.6 oz
Accessories
An ideal antenna for the module LoRa, loyal, SiPy in 900 MHz.