64 X 32 pitch 3mm RGB LED matrix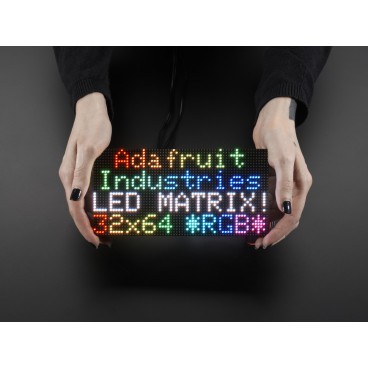 Customers who bought this product also bought:
More info
Description
These LED panel are mainly used to make walls bright plubicitaires. He have 2048 RGB LED arranged in a matrix of 64 X 32 RGB LED, they also are Chainable it have a connector IDC entry and one exit disposed of through and through, but this will be possible with an Arduino board to base because he's going to run out of RAM and power.
Each matrix need 13 pins to use, 6 bit of data and 7 bits of control and a good diet, there will be a power supply 5V 4A for each LED panel.
Must keep in mind that these are planned to be flown with FPGA, it don't dipsose no PWM clock generator integrated.
Features
Size: 191mm x 96mm x 15mm / 7.5 "x 3.8" x 0.6 "
With IDC cable and power cable weight: 189 g
Power supply: 5V regulated, 4A max (all LEDs lit)
Logic of entry: 3 to 5V
LED matrix 2000 mcd on a grid to 5mm
1/16 scan rate
160 degree visibility
Screens chainable - connect one output on the following entry - not yet handled in the Arduino code
Documentation
32 x 16 and 32 x 32 RGB LED Matrix 512 pixels of eye-blasting glory