Thermistor 10K - 3950 NTC - accuracy 1% Epoxy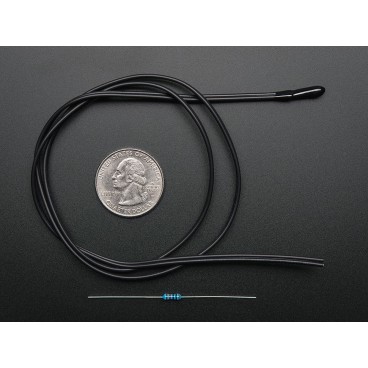 Thermistor 10K - 3950 NTC - accuracy 1% Epoxy
ADA 372
data-lang="en">
Epoxy thermistor to measure temperatures accurately.
Estimation de livraison entre le 28/09/2022 et le 30/09/2022
Colissimo Domicile - sans signature

A partir de: 5,45 €
Customers who bought this product also bought:
More info
Description
This Epoxy 10K thermistor has an accuracy of 1%, it was a low cost means to measure a temperature in the air or liquids. the resistance is 10KΩ at 25 ° C and it down if the temperature rises and conversely, it goes up if the temperature drops.
It is often used for air conditioning systems, the protection of the cable and its envelope allow it to hold up to 105 ° C.
This thermistor is sold with a resistance of 10KΩ to calibrate or to realize a divisor of tenson.
Feature
Resistance at 25 ° C: 10KΩ + - 1%

B25/50 = 3950 + - 1%

Contante thermal in time: < = 15 seconds

Beach d etemperature:-55 ° C to 125 ° C

28 AWG Wire PVC cable

Diameter: 1.3 mm / 0.5 "

Length: minimum 457mm / 18 "long
Documentation