2.13" Flexible Monochrome eInk / ePaper Display - 212x104 Monochrome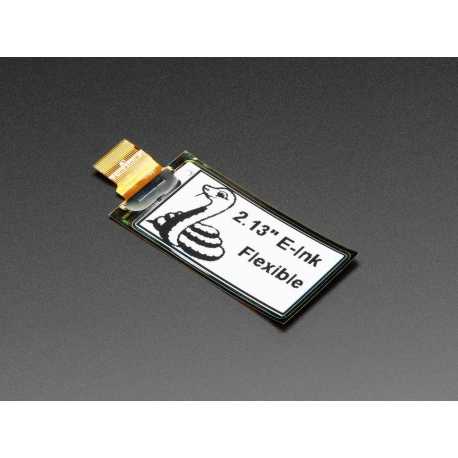 2.13" Flexible Monochrome eInk / ePaper Display - 212x104 Monochrome
ADA 4243
data-lang="en">
A 2.13" Monochrome flexible ePaper display.
Estimation de livraison entre le 20/09/2019 et le 21/09/2019
La Poste - So Colissimo

A partir de: 4,80 €
More info
Wow, the cyber-future is here! Flexible electronic ink has been demonstrated at high-tech events for years, but now you can really get involved. This display is true E-Ink / E-Paper, once an image is displayed, it will remain even after you have turned off all power. The image is also highly contrasted and very readable in daylight. It really looks like printed paper!

This flexible display features a 2.13" (black and white) monochrome display. It has 212x104 pixels of black ink on a white background. This is the same resolution as the 2.13" tricolor display, but there is no red ink layer. Monochrome displays also take much less time to update, only a few seconds instead of 15 seconds.

Warning: this display is flexible but this does not mean that you can bend it at any time.

These displays should not be moved during a display update, you will get strange effects.
Continuous bending may damage the screen.
There is no specification as to how many times it can be flexed, so keep it to a minimum!
We recommend fixing the screen on a stable support to reduce stress. For example, it can be attached to a rigid curved bracelet to make a watch.

Using our CircuitPython or Arduino libraries, you can create a frame buffer with the pixels you want to activate and then write it on the screen. Most simple cards leave it at that. But if you do the math, 212 x 104 pixels = 2.5 KB. This does not go into the memory of many microcontrollers. Damn it, even if you have 32KB of RAM, why waste 2.5KB?

The library we wrote does all the work for you, you can simply interface it with it as if it were an Adafruit_GFX compatible screen.

Note: This is only the display, you will need an eInk Breakout Friend to interface it.
Technical details

Dimensions (without flat cable): 60 x 30 x 0.2 mm
Product weight: 0.1g / 0.0oz
Librairie