Adafruit 1.54" Monochrome eInk / ePaper Display with SRAM - 200x200 Monochrome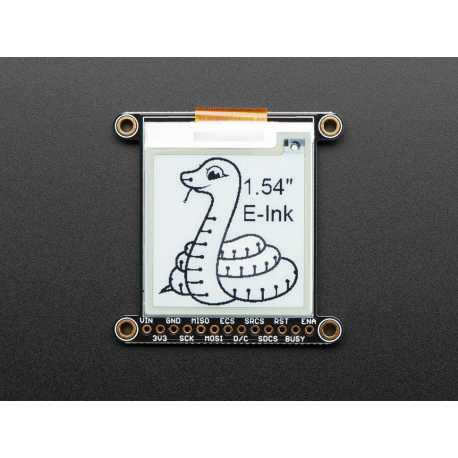 Customers who bought this product also bought:
More info
Electronic paper is finally arriving for microcontrollers, with this breakthrough that is designed to facilitate the addition of an eInk display. Chances are you've seen one of these new e-readers like the Kindle or the Nook. They have huge "static" electronic paper screens, which means that the image remains on the screen even when the power is completely turned off. The image is also highly contrasted and very readable in daylight. It really looks like printed paper!

We have loved these displays for a long time, but the breakouts were never designed to be used by manufacturers. Finally, we decided to do ours!

The 1.54" diameter monochrome (black and white) display is integrated into the map. Its resolution is higher than that of our 1.54" tricolor display with 152x152 black pixels on a white background. Monochrome displays also take much less time to update, only a few seconds instead of 15 seconds!

Using our CircuitPython or Arduino libraries, you can create a frame buffer with the pixels you want to activate and then write it on the screen. Most simple cards leave it at that. But if you do the calculation, 200 x 200 pixels = 8 Kb. This does not go into the memory of many microcontrollers. Damn it, even if you have 32KB of RAM, why waste 8KB?

We did you a favor and threw a little SRAM chip at your back. This chip shares the SPI port used by the eInk display, so you only need an additional pin. And, no more frame-buffering! You can use the SRAM to configure what you want to display, then mix the SRAM data with eInk when you are ready. The library we wrote does all the work for you, you can simply interface it with it as if it were an Adafruit_GFX compatible screen.

For very low power consumption applications, the integrated 3.3V controller pulls out the Enable pin so that you can turn off the power to the SRAM and display. We even added it to a MicroSD card so you can store images, text files, anything you want to display. Everything is in 3 or 5V Logic Safe so you can use it with any microcontroller.

Supplied assembled and tested, with a non-soldered connector.

Specifications :

Dimensions: 43.5 mm x 43 mm x 43 mm x 4.6 mm / 1.7 in x 1.6 in x 0.18 in
4 mounting holes 0.1" / 2.5 mm in the corners
Screen size: 28mm x 28mm x 28mm / 1.1" x 1.1".
Weight: 8.8g



Accessories
An ePaper screen with SRAM of 1,54" Red and black on White background.

A 2.13" Tri-Color eInk display for your Feather card.