6mm Rainbow Tactile Button Deluxe Party Tray - 160 Pieces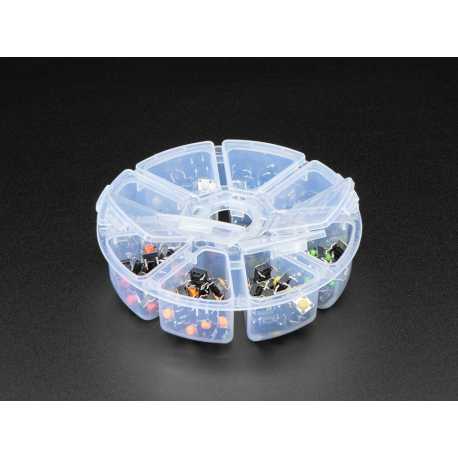 6mm Rainbow Tactile Button Deluxe Party Tray - 160 Pieces
ADA 4184
data-lang="en">
A kit of 160 rainbow push buttons for your projects.
Customers who bought this product also bought:
More info
Do you know, these festive trays that you see at parties, where there are sliced carrots on one side, and pieces of cheese on the other, all nicely divided? Okay, it's exactly the same thing, but for the 6 mm touch buttons. You will never again feel constrained by the colours of the buttons with this button party, many colours, in a practical case.

Small pushbutton switches are standard input "buttons" on electronic projects. These work better in a printed circuit board but can be used on a breadboard, the pins are normally open (disconnected), and when the button is pressed, they are momentarily closed.

Each button is delivered assembled with a round candy-coloured cap. You get 20 in each color - blue, brown, green, yellow, yellow, orange, red, black and white, up to 160 mini touch buttons! All are about 250gf.

Technical details

Dimensions of a single button: 6 x 6 x 6 x 6 x 6 x 5mm
Plastic housing: 105mm diameter
Accessories
A batch of 20 push buttons 6mm miniatures

A pack of 10 buttons with metal ball.

A convenient generic transistors pack.