Pack of male and female Dupont crimp connectors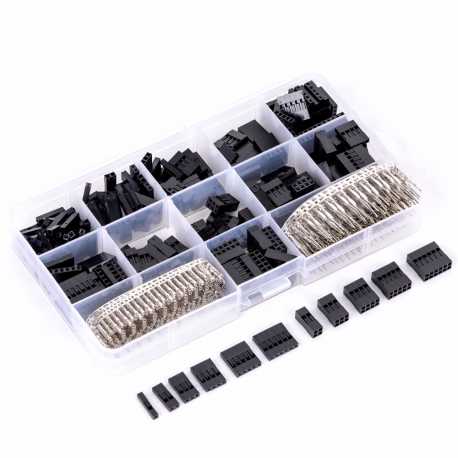 Pack of male and female Dupont crimp connectors
SGK-PACK-DUPONT
data-lang="en">
A contact pack type Dupont with the most frequently used boxes.
Estimation de livraison entre le 01/04/2020 et le 02/04/2020
La Poste - So Colissimo

A partir de: 4,80 €
Customers who bought this product also bought:
More info
This pack is composed of male and female Dupont pins to crimp with several types of boxes to meet most needs when you want to make your own cable with crimped connectors for a perfect finish of your project.
Contact characteristics
Compatible wire gauge (AWG): 18-26AWG
Pin spacing: 2.54 mm (0.1")
Rated voltage: 250V
Rated current: 3A
Color: Black
Quantity: 620pcs
They work perfectly with all connectors with a 2.54mm pitch and breadboard compatible.
This kit is supplied with the most common pin housings in addition to the male and female crimp pins - all in one housing.
Package Composition
200pcs x Female Crimp Pins

200pcs x Male Crimp Pins

10pcs x 2x6

10pcs x 2x5

10pcs x 2x4

10pcs x 2x3

10pcs x 2x2

20pcs x 1x6

20pcs x 1x5

20pcs x 1x4

20pcs x 1x3

40pcs x 1x2

50pcs x 1x1
We recommend using the Pince a sertir SN-28B pour contact Dupont de 18-28 AWG to crimp the contacts.