SmartiPi Touch - Stand for Raspberry Pi 7" Touchscreen Display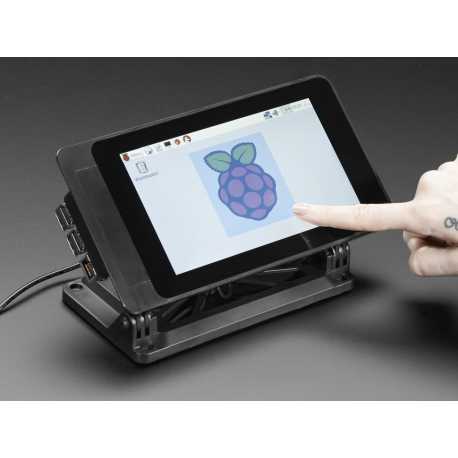 SmartiPi Touch - Stand for Raspberry Pi 7" Touchscreen Display
ADA 3187
data-lang="en">
A support for the articulated Raspberry PI DSI screen.
Customers who bought this product also bought:
More info
Description
This is an excellent design support that offers an elegant and robust look for the 7" touch screen and Raspberry Pi. Say hello to the SmartiPi Touch.

The 7" screen is attached to the case with four screws and the Raspberry Pi is locked in the compartment at the back of the case. A single door covers the Pi in the compartment, allowing the flat display cable to connect to the Raspberry Pi DSI port.

You can power the screen in two ways: either by operating two jumper wires from the Raspberry Pi GPIO (conflict with HATs), or by using separate micro USB cables (or a splitter cable) to power the Pi and screen independently.

Features:

Compatible with Raspberry Pi 3,2, B+ and A+.
125° smooth swivel to adjust the screen angle.
HATs can be attached to the back of the case, adding even more functionality.
3D printable accessories for additional customization
LEGO compatible camera case that works with Pi cameras version 1 and 2

Note: The 7" touch screen and Raspberry Pi are not included. The Raspberry Pi's HDMI port is not accessible when closed.
Fetaures
Dimensions : 220.0mm x 133.0mm x 37.0mm / 8.7" x 5.2" x 1.5"

Weight : 221.2g / 7.8oz


Accessories
The official touch screen of the Raspberry PI use the DSI port Foundation!