Touch Board Starter Kit Bare Conductive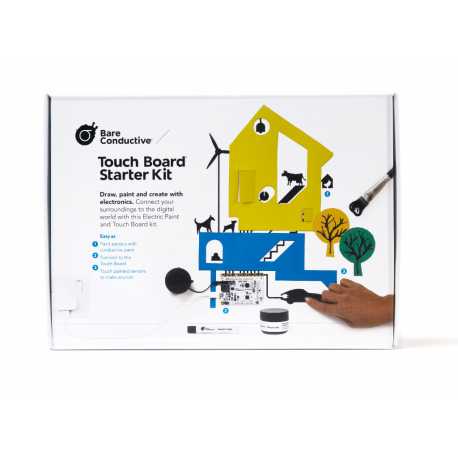 Customers who bought this product also bought:
More info
Description
Whether you're a beginner, a programming professional or you're looking for an excellent gift for a do-it-yourselfer, this kit will get you started on interactive projects in no time.

The Touch Board Starter Kit has everything you need to turn any surface, object or space into a sensor. In this box, you'll find a touch board, electrical paint, essential components and everything you need to start creating interactive electronic projects.

LEVEL: Super Beginner to Pro Programming

About the Touch Board
A single tool, a million possibilities. Create sensors with its 12 electrodes to trigger sounds via its MP3 player. Supported with well-documented code examples for optional programming.

About Electric Painting
Your design and electronics projects are about to change forever. Painting circuits or the use as conductive adhesive on almost anything that is conventional paper, plastic, textile and electronic.
Kit contents
1 x Touch Board
1 x Tube 10ml electric paint
1 x electric paint pot 50ml
1 x Practical guide
1 x MicroSD Card
1 x MicroSD card reader
1 x Micro USB cable
1 x Mini speaker
12 x crocodile clips (variable colors)
1 x House stencil
1 x stencil brush
12 x Self-adhesive tabs
3 x Velcro Stickers
2 x Paper cuts

Features & Features


Made in the UK
Height / 5.5cm / 2.2in
Width / 21.7cm / 8.5in
Depth / 15.7cm / 6.2in
Weight / 0.564kg / 19.9oz
ges: 14+


For technical support on Bare Conductive products, contact info@bareconductive.com
Documentation