Prototyping Shield with breadboard for Arduino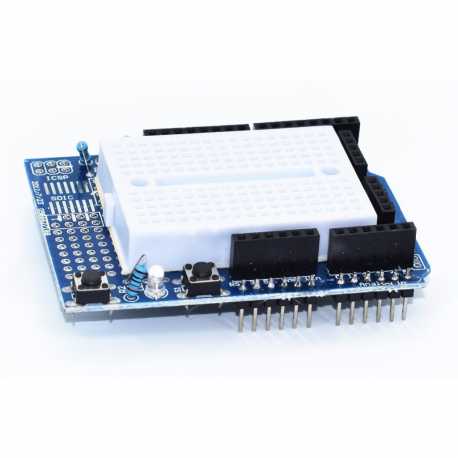 Prototyping Shield with breadboard for Arduino
SGK-PROTOSHIELD
data-lang="en">
An ideal shield to prototype with your Arduino card
Customers who bought this product also bought:
More info
This Arduino board shield is ideal for prototyping. It has a breadboard in its center of 170 points to integrate your temporary assemblies that is easy to connect with arduino pines with simple male-male wires for prototyping (not provided).

It also has:


reset push button
user push button
User LED
Soldering cavity SOIC20
Accessories
The Arduino UNO card is the best seller from Arduino. Simple, effective and cheap.

A batch of flexible son of sizes and different colours, ideal for the breadboards.

Kit 20 wires length 150mm with ends male and male premium.