Pi Protector for Raspberry Pi Model B+ / Pi 2 / Pi 3 B+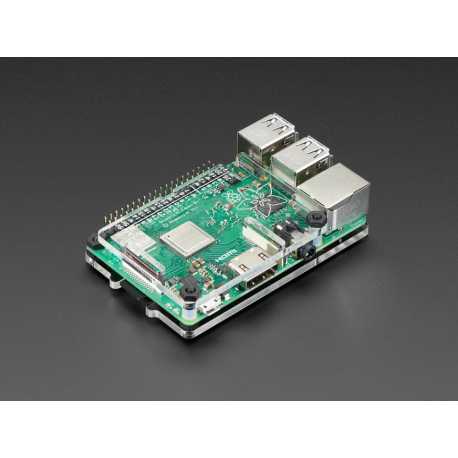 More info
You've seen the A+ pocket protector - it's time for the larger version. Here is PaintYourDragon's latest masterpiece, part II: Pi Protector for Raspberry Pi! It's not quite a complete case, but it will keep your Pi B+ safe in a minimum format.

Keep your Raspberry Pi computer tidy and safe in this beautiful clear acrylic case. We have designed this simple protector to be beautiful, easy to assemble and perfect for any use (but especially for those who want to carry their Pi in their pocket!) This case is compatible only with Raspberry Pi 2, Raspberry Pi 3 model B and Raspberry Pi 3 model B+. It does not match the original Raspberry Pi 1.

The housing is as minimal as it is delivered in two pieces of acrylic which are fixed with four screws. Made of transparent acrylic, this case protects the Pi. You can use all connectors on the edges of the Pi : HDMI, Audio/Video, microSD slot, micro USB power supply and four USB ports. There is also a cut-out to allow the use of a 40-pin IDC cable to the GPIO output pins on the Pi.
Accessories
USB cable - Series ideal TTL for Debug or Console of the Raspberry PI function.

The essential tool for connecting a GPIO port map Raspberry PI on a breadboard.

Card micro SD 16 GB with its SD adapter, pre-installed with the OS NOOBS for Raspberry PI.