NFC RFID Ring - Size 9 - NTAG213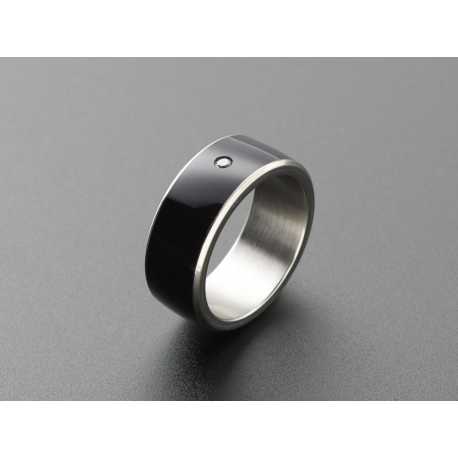 NFC RFID Ring - Size 9 - NTAG213
ADA 2803
data-lang="en">
One ring with RFID/NFC connection size 9.
More info
Description
What did Sauron, when forging the Ring in the fires of the Mountain of Destiny, forget to include in his all-powerful ring? It's easy - it could have added an integrated RFID / NFC transponder!
NFC (near field communication) technology is a great way to interact wirelessly with projects. With this smart RFID / NFC ring, your ring can communicate with your phone / tablet, your computer or more! It contains two MiFare Ultralight C - NTAG 213 MiFare with 144 bytes of read/write memory. One is on the inside of the ring towards the palm, the other is under the jewel. You can use tags to launch applications, unlock your phone, transmit a URL, control an Arduino, etc.
This is an intelligent RFID / RFID ring with an inner diameter of 19 mm.
NFC is a means for two devices very close to each other to communicate. A bit like a bluetooth at very short distance that does not require authentication. This is an RFID extension, so everything you can do with RFID you can do with NFC. Because it can read and write tags, you can always use it for RFID projects. This ring can be read by any NFC / RFID reader with ISO 14443-3A MiFare Ultralight / NTAG support (which is pretty much all of them), including our PN532 readers and various tablets and phones.
Features


Internal Diameter: 19mm / 0.75".
Outer Diameter: 23.4mm / 0.92" Outer Diameter
Thickness: 2.5mm / 0.1 "/ 0.1"
Weight: 4.4g
Accessories
A key door transparent contained a tag RFID NFC Mifare classic 13.56 Mhz.

A shield to add a communication RFID/NFD to the Arduino!