Breakout SMT for QFN32 or TQFP32 - Pack of 3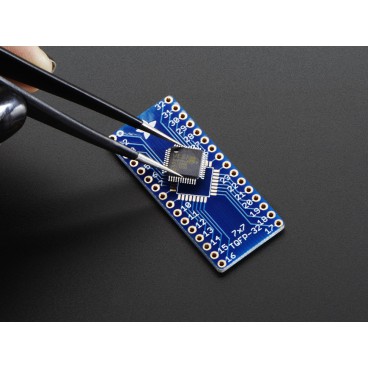 Breakout SMT for QFN32 or TQFP32 - Pack of 3
ADA 1163
data-lang="en">
A circuit to adapt a component SMT (or CMS) QFN32 or TQFP32 DIP format.
Estimation de livraison entre le 02/11/2020 et le 03/11/2020
La Poste - So Colissimo

A partir de: 4,80 €
Customers who bought this product also bought:
More info
Description
A new circuit is only available in SOIC or (T) SSOP? This circuit breakout is to simplify your life during the prototyping with a compatible pinout of the breadboard. On one side, we find QFN footprint in 32 pines and on the other a footprint TQFP 32 pines, the whole being routed on external pins on 2.54 mm pitch. So just solder your circuit on one of the faces and it is ready to be used on a breadboard.
Sold by pack of 3-circuit adapter.
Accessories
A breadboard of medium size perfect for your temporary electronic assemblies.

Breadboard - Platinum test 830 contacts.